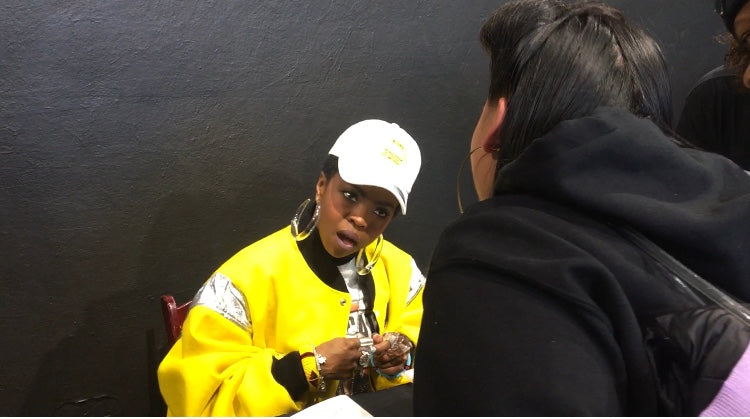 Hey y'all!
This is my very first blog post, exciting!
On New Years Eve day, December 31st 2018, I met Lauryn Hill herself in the flesh! A  local bay area shoe store, Solespace, hosted the meet and greet before her performance at the fox theater that night. It was super dope and there was such a diverse community in line to meet her, nearly people from every generation both young and old! It definitely showed how much her music has impacted almost everyone of every background, and especially women of color. The energy at the venue once you made it inside of the store was amazing. They had a local black womxn of color DJ (DJ Reborn) on the turn tables, Lauryn Hill tour merch being sold, and of course Ms Hill herself singing merch and talking with folks in the space.
I arrived around 12pm when the meet and greet was supposed to start with my partner, but as many folks know, Lauryn is notorious for being late (LOL, same). So after about an hour and a half, she arrives! The line moves quickly as there was not too many people ahead of us, and my turn comes around. I cop a dope clue shirt to support and then wait my turn to meet her inside the venue. I'm next in line and whip out her gift bag and a personal coloring book. Her reaction when seeing her coloring page was priceless, her jaw dropped and she said "WOW!", I then introduced myself and told her about my business and mission. I also made sure to give her a coloring book and some t-shirts for herself, it was only necessary! 
She was so kind and beautiful in person, I felt kind of shaken up after because her music has been like a playlist for a majority of my youth and life as a growing young womxn, and to finally meet her felt surreal!
Overall, it was a dope experience and I hope I made an impact on her that day with my book. In the future I hope to meet every other existing womxn in my book as I did with Lauryn. It would be dope to do collaborations with every single one of them, I'm speaking that into existence now!!